Strata Florida Abbey
Illustrated historical reconstruction
I produced this illustrated reconstruction for the on-site interpretation at Strata Florida Abbey in Ceredigion, Wales. It shows the medieval Cistercian Abbey and its surrounding monastic buildings as these may have looked in the sixteenth century just prior to dissoultion at the time of the Protestant Reformation. Its buildings are showing signs of falling into disrepair. The monastery buildings were demolished, with the stone going to be recycled in surrounding farm buildings and possibly the parish church of St. Mary which presently lies within the boundaries of the graveyard. The graveyard is believed to be the resting place of the Welsh poet Dafydd ap Gwilym (c. 1340-1370) although this is disputed.
Monasticism and agriculture were the two main themes typical of everyday life for Cistercian monks in this period. As well as devoting their lives to God, these monks were also highly-skilled farmers. The monks would have been assisted by many laymen, or lay brothers who would have undertaken the more labour-intensive duties associated with working the land.
The Cistercians farmed the land fairly intensively and this was one of the earliest forms of commercial enterprise before the Industrial Revolution. Like at many similar abbeys, Strata Florida would have enjoyed much prosperity from the landscape with its rich and well-irrigated soil for cultivating crops and its surrounding hills - ideal for breeding sheep and cattle.
The name Strata Florida is derived from the Welsh term Ystrad Fflur, meaning; "Valley of the river of Flowers". Ystrad meaning Strata, and Fflur meaning Flowers which is the name of the nearby river.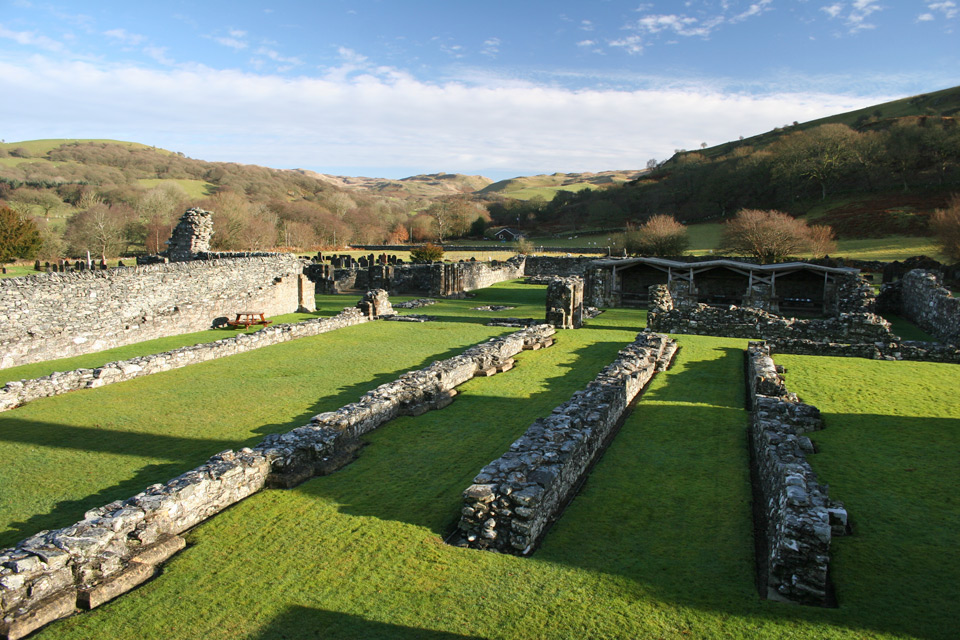 Artist: Bob Marshall
Client: The University of Wales Trinity Saint David
Image Copyright © The University of Wales Trinity Saint David 2013
Artwork production time: 92 hours (2.5 weeks)